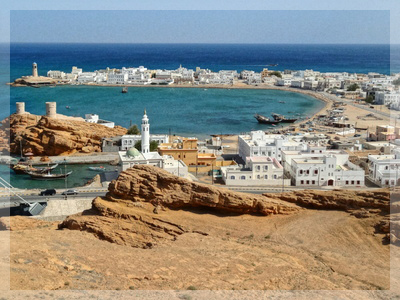 Ten years ago Dubai was THE place to go in the middle of winter for sea and sand. Now the sea is as murky as the Thames and the city looks more and more like a construction site with half-finished buildings right left and centre.

The new place to go is Oman. With its natural beauty, great beach resorts and traditional architecture, it is perfect for a short break.

The go to hotel is the Shangri-La Bar al Jissah Resort, which comprises of 3 hotels and many restaurants. The sea lapping at the resort's half moon shaped, palm tree-lined beach, could not be clearer or more beautiful.

Of course there are many other hotels in Oman some of them exceptionally beautiful like the Chedi, opulent like the Ritz Carlton or near the town like the Hyatt, but Shangri-La beats them all as far as the beach goes.

Muscat's souk or covered bazaar sells traditional costumes, silverware and shawls from Nepal and India. You can take the opportunity to spend the night nestled in a traditional Bedouin tent in the desert: listening to the silence of the sand.

The diving in Oman is world class; the sea abounds with turtles, tropical fish and corals. The reef is one of the 3 greatest in the world. It is frankly amazing that Oman is still so relatively undiscovered.

Oman has become a winter staple for Private Class clients. It is a truly wonderful destination. For more information contact the Private Class team.